Monday, May 08, 2023
In the late afternoon, NQ took the Buyside Liquidity from Friday's high while ES did not. This is Bearish SMT Divergence. ES also failed to go above the days London high while NQ did, so this is the second Bearish SMT Divergence. So my attention went directly to NQ to search for potential ICT 2022 Mentorship Sell Models. On the 3min & 5min NQ had some nice displacement down that created a FVG in a Premium of the range.
Price made a swing low and started heading higher toward the newly created FVG. Additionally, this was occurring in the 3:15 - 3:45 pm Macro. Everything looked good and many confluences made this a high-probability trade. I marked out the Equilibrium of the Impulse Price Swing and found potential FVGs in a Discount to use for possible Terminus locations of my trade.
NQ hit my Limit Sell order inside the FVG and then quickly started going down. Everything was proceeding nicely. But when NQ got within 1 pt of the swing low that created the MSS (13337) it started vacillating. I immediately looked at ES and YM and they were going up. It was late in the day and I was 10 NQ pts in profit on a Monday, so I closed the trade. It turns out I made a great decision because price then proceeded back up to above my entry.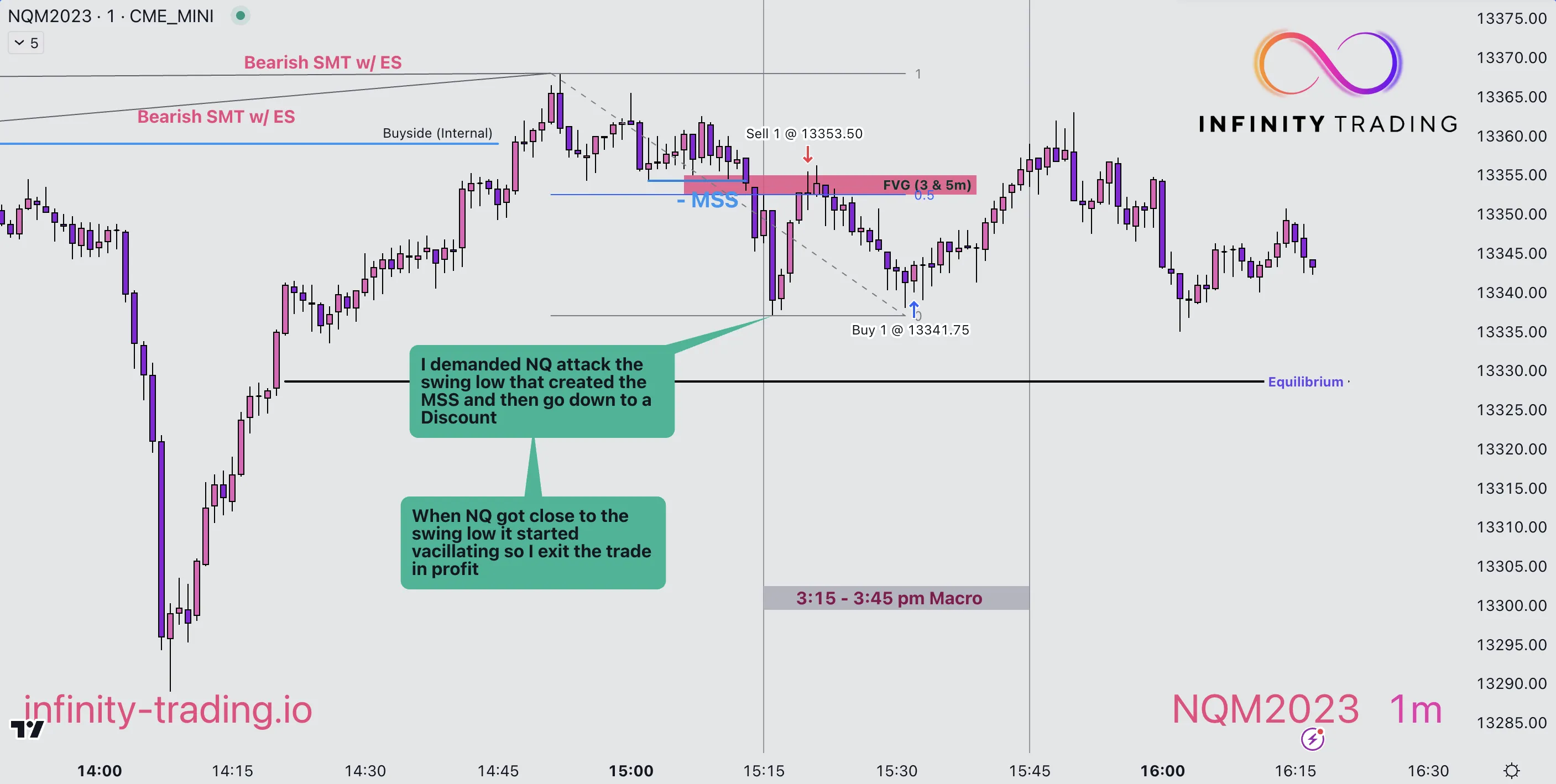 Demand Precision From Price Action
ICT teaches us while in trades to demand price action to act how we expect it to. And when price doesn't give you what you want to start looking for the exits. I wanted NQ to attack 13337 and then proceed down to a Discount to start filling in the FVGs. It didn't do that. So at the first moment of price acting indecisive I took my money and ran. I didn't make a ton of money but I didn't hesitate to demand price action to act a certain way. And it feels amazing to know I exited at the exact moment I was supposed to!
---
You May Also Like
Articles That Help You Supercharge Your ICT Knowledge
Free TradingView Indicators Inspired By ICT Concepts